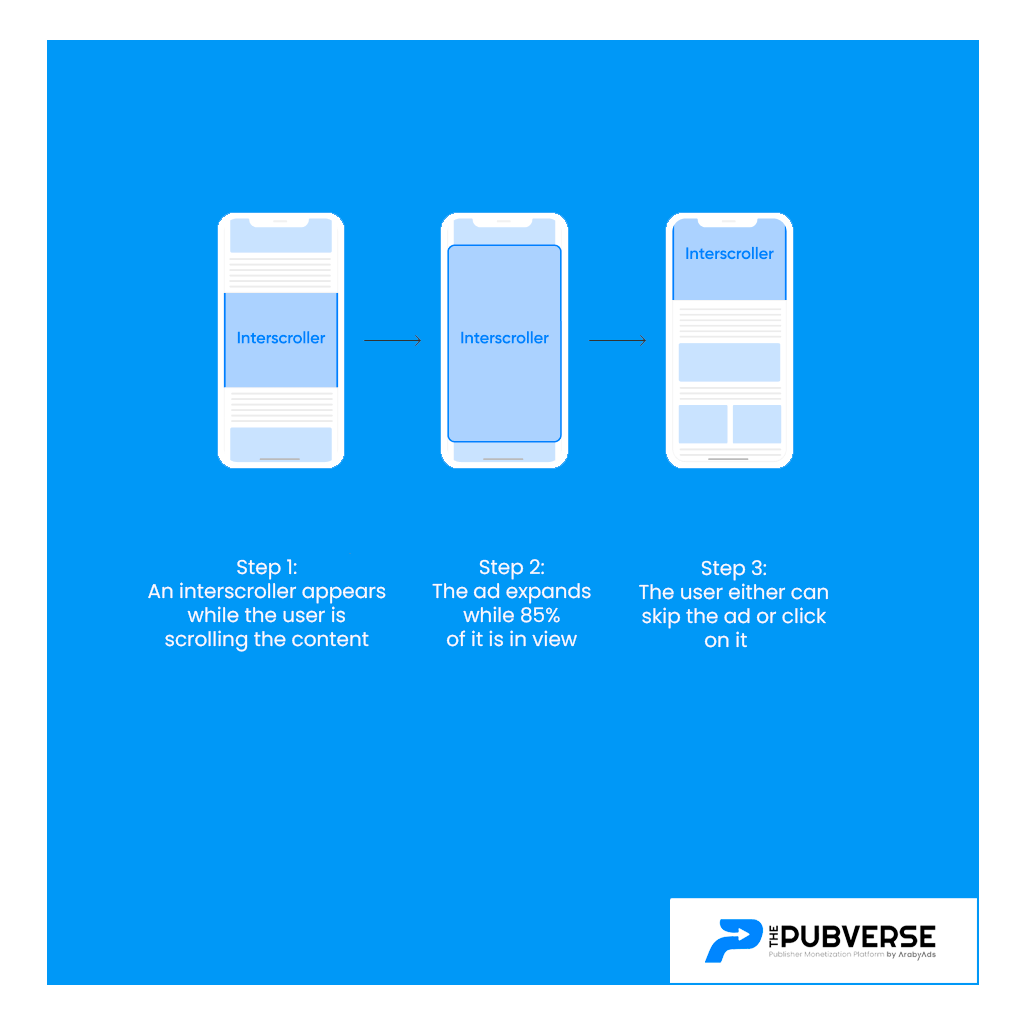 The Definitive Guide to Interscroller Advertising
ThePubverse Team | November 11, 2023
In the ever-evolving and dynamic landscape of digital advertising, publishers in the MENA region find themselves at the forefront of innovation, exploring novel opportunities to augment user engagement and maximize revenue. One such avenue that is rapidly gaining prominence is Interscroller Advertising. This in-depth guide aims to provide publishers in the MENA region with a comprehensive understanding of Interscroller Ads, delving into what sets them apart, why they stand out as a compelling choice, and how publishers can strategically leverage their benefits to achieve optimal results. 
Understanding Interscroller Ads 
In the intricate world of digital advertising, where evolution is constant, Interscroller Ads have emerged as a dynamic and visually captivating form of mobile advertising. Seamlessly integrating into the user's content consumption experience, these ads are strategically positioned between sections of editorial content. Their unique ability to captivate the audience's attention as they scroll through provides an immersive and non-intrusive advertising solution that aligns seamlessly with the natural flow of content. 
Why Publishers Should Choose Interscroller Ads 
1) Enhanced User Experience 
Interscroller Ads transcend conventional advertising approaches by seamlessly blending into the user experience. By avoiding disruptions and offering visually appealing content that resonates with the audience, they elevate the overall user engagement. 
2) Higher Engagement Rates 
The inherently interactive nature of Interscroller Ads serves as a catalyst for heightened user engagement. This results in increased click-through rates, providing an overall more impactful advertising experience that resonates with audiences. 
3) Optimized for Mobile 
Acknowledging the escalating trend of mobile content consumption, Interscroller Ads boast a design tailored specifically for mobile devices. This ensures an optimal viewing experience, catering to the preferences of the ever-growing mobile user base. 
Interscroller vs. Interstitial Ads 
While both Interscroller and Interstitial Ads share the common goal of capturing user attention, Interscroller Ads distinguish themselves through their less intrusive nature. Unlike Interstitial Ads, which often interrupt the user experience, Interscroller Ads seamlessly integrate into the natural scrolling flow, offering a more user-friendly and engaging experience. 
Benefits of Interscroller Ads over Other Ad Formats 
1) Non-Intrusive Nature 
One of the key advantages of Interscroller Ads is their seamless integration into the content, avoiding disruptions to the user experience. This fosters a more positive interaction with the audience, enhancing the overall effectiveness of the advertising campaign. 
2) Increased Visibility 
Strategically positioned within the natural scroll, Interscroller Ads enjoy heightened visibility. This strategic placement ensures that they are more likely to be noticed by users, thereby enhancing their effectiveness for advertisers seeking maximum exposure. 
3) Mobile-Friendly 
Acknowledging the growing dominance of mobile devices, Interscroller Ads prioritize a design optimized for various screen sizes. This strategic move caters to the evolving preferences of the mobile-centric audience, ensuring a seamless and visually appealing experience. 
Also read: Evaluating the Current and Future Landscape of Programmatic Native Advertising 
How to Work with Interscroller Ads: The Beginner's Steps 
1) Choose the Right Platform 
Embark on your Interscroller Advertising journey by carefully selecting a platform that not only supports these ads but also aligns seamlessly with the unique characteristics and preferences of your target audience. This strategic choice lays the foundation for a successful campaign. 
2) Craft Engaging Creatives 
Unlock the full potential of Interscroller Ads by going beyond conventional creatives. Develop visually appealing and interactive content that resonates authentically with your audience. This approach ensures a memorable and impactful user experience that drives engagement. 
3) Implement Targeting Strategies 
Maximize the impact of your Interscroller Ads by strategically utilizing targeting options. Tailor your content to reach the right audience segments, ensuring that your campaign resonates with users who are most likely to respond positively. 
4) Monitor and Optimize 
The key to sustained success in Interscroller Advertising lies in continuous enhancement. Closely monitor key performance metrics and utilize these insights to refine your approach. Optimization over time ensures that your campaign evolves for better results, adapting to the ever-changing digital landscape. 
Also read: How to Monetize Your Digital Properties With Audio Ads 
As publishers in the MENA region navigate the evolving landscape of digital advertising, Interscroller Advertising emerges as a powerful and innovative solution. Armed with a deeper understanding of the unique benefits it offers, publishers can make informed decisions to enhance user engagement and provide advertisers with a captivating platform for their campaigns. Embrace the potential of Interscroller Advertising to elevate your digital advertising strategy, unlock new revenue streams, and thrive in the dynamic landscape of the MENA region.